Gibraltar and Malaga hire car terms
Click here and book quick and simple directly online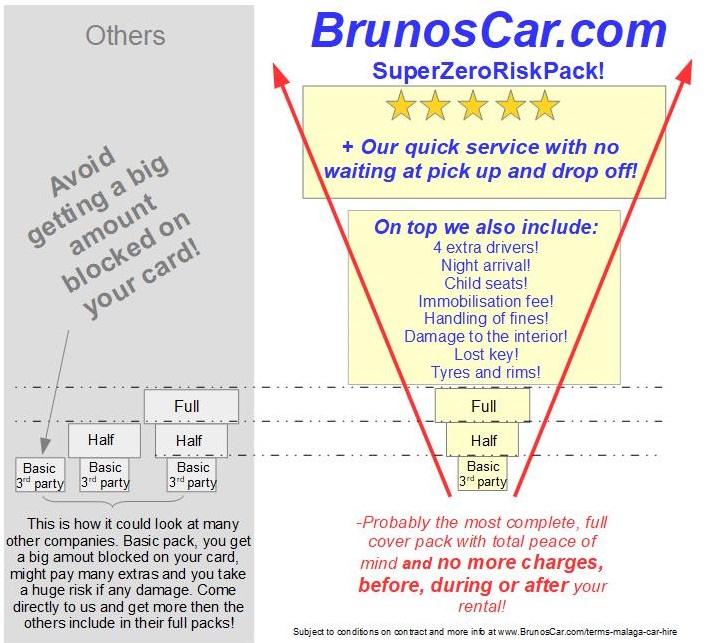 Super Zero Risk Pack - by BrunosCar.com!
Full accident, fire and theft insurance with NO EXCESS.
Third party liability
Courtesy car (depending on availability and circumstances leading to accident)
Damages to the interior of the vehicle
Unlimited mileage within the autonomous region of Andalucia
VAT.
24 hrs road assistance service.
24 hrs tow truck service.
Taxi to destination (after accident or breakdown)
Child seats (baby or booster seats must be fitted by parent/guardian).
Extra drivers (maximum 4).
Out of hours airport pick up (pre booked cars only).
Out of hours airport drop off.
One way fee if longer than 7 days, e.g. pick up Gibraltar drop off Malaga
Damages to windows.
Damages to side mirrors.
Damages to wheel rims.
Damages to locks.
Damages to tyres. (If unfortunate and a puncture happens the client must change to the spare and notify us.)
Handling of fines.
Fueling fee.
Lost key (the client has to pay the transport to get the spare key)
The rental price does not include (or cover)
Fuel (return with the same amount of fuel as when picked up).
One way fee, 30€ per rental, if less than 7 days.
Traffic fines (pay the fine on the spot and get a 50% discount)
Fueling error
General information
No deposit on your credit card.
Free cancellation, please inform us at least 24h before if you want to cancel.
Visa and Mastercard accepted.
The driver has to be minimum 21 years and have a valid licence for 1 year.
Personal belongings inside the car are not covered by the insurance.
Hire cars are not allowed to be driven outside Andalucia. Exception for Gibraltar where they are allowed.
Please keep the time stated for return of the rented vehicle. When making the booking a 2 hour grace period is granted for return of the car. If more one extra day is charged.