Gibraltar
Gibraltar, the rock so grand
A fortress of history and land
Where Moors and Brits have made their mark
And cultures mix, like a melody in a lark
There's something for all to explore Gibraltar's history and diversity never bore.
- LH CGPT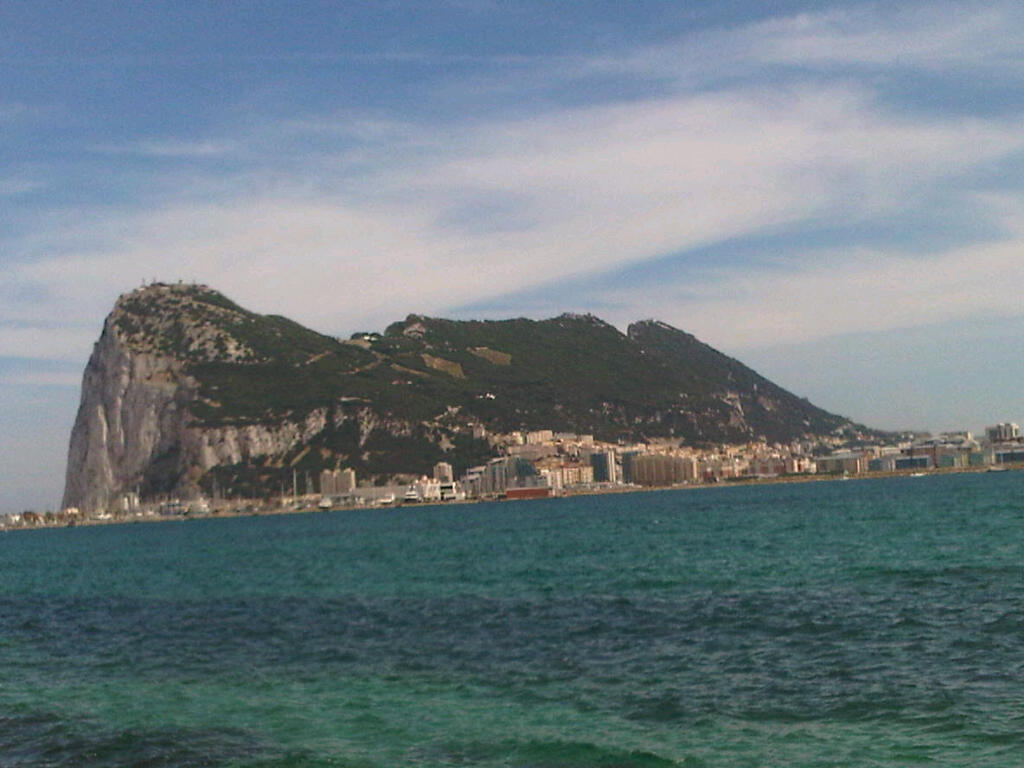 When you first see The Rock approaching by car or from the window of the airplane your are flying in with the result is always the same, you are stunned. It truly is a spectacular view. Gibraltar belongs to the United Kingdom and the majority of the about 30000 inhabitants have repeatedly shown their support to the U.K. To enter you need to bring your passport to get through the border and customs. You can drive or walk in. Mostly it is to recommend walking as you can get stuck in long border queues with the car. Gibraltar has it´s own airport for comercial, military and private use and if you have never flown here it can be well worth it as it is a small airport making it very quick and easy. The new airport terminal was inaugurated 2011.
5 quick ones for Gibraltar:
The Rock of Gibraltar, which is the most prominent feature of the territory, is a limestone promontory that reaches a height of 426 meters (1,396 feet).
Gibraltar is a tax free zone and you can find great buys on tobacco, spirits, perfumes and many other things.
Gib is home to a population of macaques, also known as Barbary apes, which are the only wild monkeys found in Europe.
The Gibraltar Strait is one of the busiest shipping lanes in the world, connecting the Mediterranean Sea to the Atlantic Ocean.
Gibraltar has its own airport which runway is crossed by a busy road, Winston Churchill Avenue. Cars must stop and wait as planes take off and land on the road, making it one of the most unusual airports in the world.
8 things to do when visiting Gibraltar:
Explore the Main Street - Gibraltar's Main Street is home to a variety of shops, restaurants, and pubs. It's a great place to pick up souvenirs or try some traditional Gibraltarian food.

Visit St. Michael's Cave - This limestone cave is located inside the Rock of Gibraltar and features stunning stalactites and stalagmites.

Visit the Gibraltar Museum - This museum offers a comprehensive history of Gibraltar, from prehistoric times to the present day.

Walk along the Upper Rock Nature Reserve - This nature reserve is home to a variety of wildlife, including the famous Gibraltar macaques.

Visit the Great Siege Tunnels - These tunnels were excavated during the Great Siege of Gibraltar and offer a glimpse into the military history of the rock.

Visit the Moorish Castle - This castle dates back to the 8th century and offers a glimpse into Gibraltar's rich history.

Visit the Trafalgar Cemetery - This cemetery is the final resting place for many soldiers who died during the Battle of Trafalgar.

Visit the Gibraltar Botanic Gardens - These gardens feature a variety of tropical plants and flowers, and are a great place to relax and enjoy the scenery.
Spanglish
"Spanglish" is a term used to describe the blending of Spanish and English languages, and it is often heard in places like Gibraltar where the two languages coexist using words and structures from both languages in the same sentence. It is important to note that Spanglish can vary depending on the region, social class and context
"Este shop esta cerrado" (This shop is closed)
"Voy a llevar el car to the supermarket" (I will take the car to the supermarket)